Custom Hydrostatic Pressure Test Systems
Custom hydrostatic pressure test systems are our specialty at Pneumatic and Hydraulic.  We have a team of pneumatic and hydraulic engineers who are experienced and innovative when it comes to designing and building custom hydrostatic pressure test systems. Packaged in any configuration, each custom hydrostatic pressure test system we build fits the unique requirements of each client.
Our custom hydrostatic pressure test systems are available with liquids in pressures up to 30,000 psi and/or gases in pressures up to 25,000 psi.  The entire package will be designed for optimum use of space and function for the intended application.  These systems can be provided as a completely enclosed cabinet with optional chart recorder or data acquisition system as well as other accessories as required.
Our 24/7/365 customer service sets up apart from the other pressure test system manufacturers.  To make the process as convenient for you as possible, we are available to meet with you and your team at your location where we can perform on-site evaluations so that we fully understand your application, goals and challenges.  We then use this knowledge and our experience to design a custom system that meets your exact needs.
Safety is always a top priority. Upon delivery, our team will thoroughly review your new system and its features with your team to ensure that they are ready to safely use it. Should any questions arise after delivery, our engineering team is available for technical support, troubleshooting, as well as on-site training.  With service like this, why would you get your custom hydrostatic pressure test systems from anyone else?  Call us for a quote today. 877-836-1999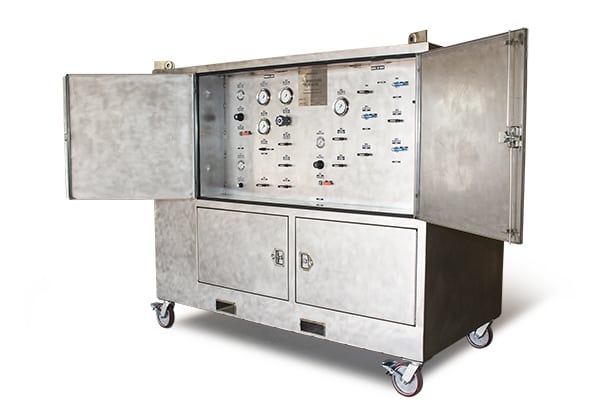 Our Capabilities Include
Pressure Control Systems
Temperature Control Systems
Data Acquisition Systems
Remote Controlled Camera Systems
Well Simulator Systems
Triplex Systems
Down Hole Tool Test Systems
And More…
Our Custom Systems Portfolio
Sorry, there is no child pages under your selected page.