Remote Control Hydrostatic Test System
This remote control hydrostatic test system operates on a point and click mouse and monitor combination. The monitor displays the entire system schematic and the status of all four pumps, the gas booster and the air operated valves. It also displays the pressure setting and all pressures at the two outlets.
This remote control hydrostatic test system has data logging capabilities with active, real time graphing of the pressure curves. The graphs can be printed out after the test on a color printer included with the system.
The operator of the system can input operational information on the graph such as part number, operator identification etc. either via the keyboard or with a wireless bar code scanner.
All safety features, such as relief valves and control inter-locks, are included in the system and software.
For more information, or to have our team design a similar system for your exact needs, contact us. 877-836-1999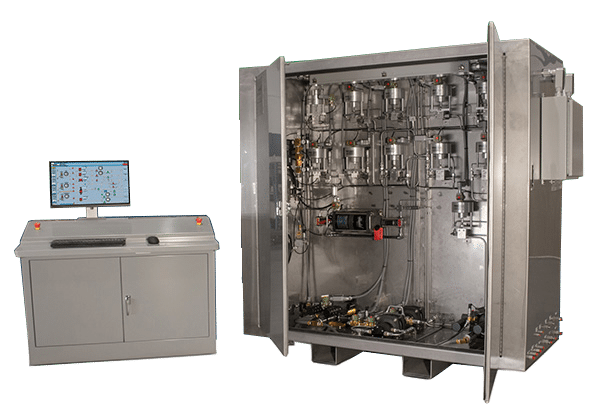 Features
Control Panel
Fully Enclosed Stainless Steel Cabinet
4 Liquid Pumps
The first is for fast filling of the lines and test part.
The second is for pressurizing the test part from anywhere between 400 psi and 10,000 psi
The third pump is for pressurizing up to 15,000 psi
The fourth pump is for an independent circuit for a tooling fixture up to 5,000 psi
Inert Gas Booster
For gas testing up to 15,000 psi
Air Operated Valves
These allow isolation and venting of 2 separate outlet circuits. The liquid and gas vents are separate lines.
Return Lines
Also built into this system are return lines from the test part and a visual flow sight gauge to verify that the part is filled and an air blow down circuit for each outlet to be able to blow the water out of the lines and test part when the test is complete.
Our Custom Systems Portfolio