Hydraulic Power Units
Pneumatic and Hydraulic Co. has the experience and stocks all components to build custom hydraulic power units, also known as hydraulic power packs or HPU's.
Hydraulic power units can be powered by diesel, electric or air motors. Our pump units can be packaged in any configuration to meet your application requirements, from stationary hydraulic power pack units for industrial applications to skid mounted hydraulic power units for easy transport to customer sites. Units slated for offshore applications are ready for handling by forklifts and cranes.
Accessories such as pressure switches, thermocouples, temperature switches, and transducers are available with any HPU, and they can be configured for remote or manual operation. Custom monitoring systems can be designed to ensure your HPU is operating safely and efficiency. On-site start-ups are available with any hydraulic power pack.
We Offer
Complete Range Of HPUs From 1 HP to 150 HP
Steel, Stainless & Aluminum Reservoirs
Pressures Up To 15,000 PSI
Flow Rates Up To 300 GPM
Custom Control Designs
Installation
Same Day Quotes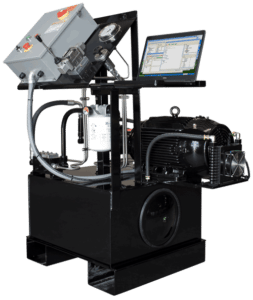 Read about this customized Hydraulic Power Unit we designed for a client with a special request.
Read More