Certified Hydraulic Pump Repair
Our authorized hydraulic pump repair centers can perform pump, cylinder, valve and system repairs for all top brands including Haskel, Butech and Sheffer. We also repair units from Hawe, HIP, Vickers, Parker, Oilgear and Nachi.
All pumps are repaired and tested to factory specifications. Our experienced technicians have the ability to repair any size equipment, including but not limited to pumps, valves, cylinders, and systems.
Pneumatic and Hydraulic conducts most types of hydraulic pump repair from double diaphragm to hydraulic gear, vane, piston pumps to gas boosters and air amplifiers. Our repairs range from basic seal and soft good replacements to complete overhauls.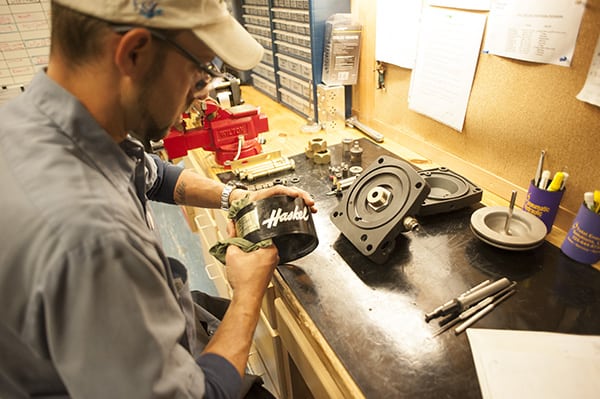 The Repair Process
Step 2
Ship your repairs to one of our locations, have it picked up, or coordinate for an on site repair.
Step 3
We will disassemble and fully evaluate your equipment.
Step 4
An evaluation and quote will be sent to you with suggestions and proper repair procedures.
Step 5
Once you approve the repair, we begin working on your equipment immediately.
Step 6
Once the repair is complete, we will ship your equipment back to you, or schedule the installation.