Graco SaniSpray HP Disinfecting Equipment
Graco's SaniSpray HP disinfecting equipment has been designed to deliver consistent coverage, without heavy drips and runs, so that you can achieve specified disinfectant dwell times. Don't leave your success to chance. Graco SaniSpray solutions include innovative, patented technologies to deliver highest productivity on all your cleaning jobs small or large.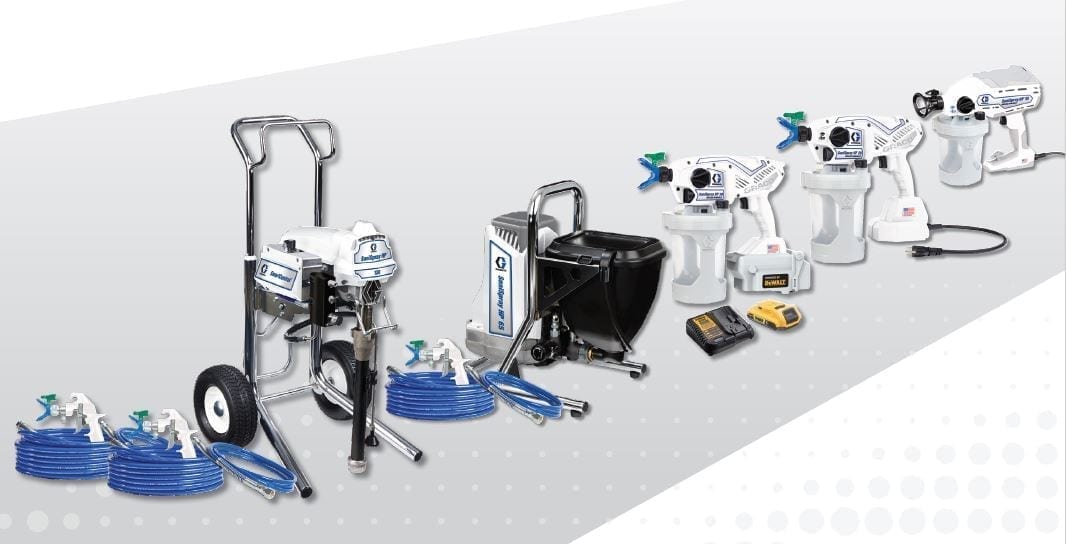 A SaniSpray HP Sprayer For Every Job
The complete line of SaniSpray HP sprayers are built to deliver the highest level of productivity on every job—whether you need to treat a small room or an entire complex, there is a SaniSpray HP model with the performance to take on the task.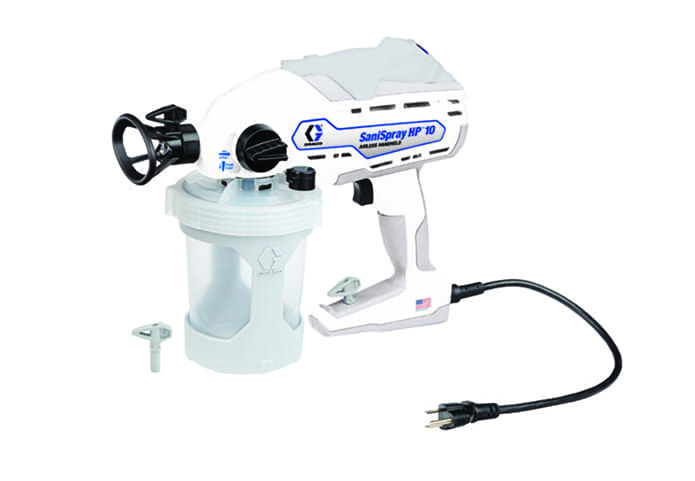 SaniSpray HP 10
Spray Up To 10 oz Per Minute
FINISH SMALL JOBS FAST
• Perfect for areas that require maximum portability
FILL & SPRAY 32 oz FLEXLINER™ BAG SYSTEM
• Easily move from room to room
• Spray in any direction—even upside down
ADJUSTABLE FLOW CONTROL
• Full range control delivers either complete coverage on specific objects or fine spray within an area
DURABLE PISTON PUMP
REVERSE-A-CLEAN (RAC®) SPRAY TIPS
• Choose from 2 RAC tips to meet your disinfectant's dwell time and atomization requirements
FOR HOUSEHOLD USE ONLY*
SaniSpray HP 20
Spray Up To 20 oz Per Minute
Includes all features on the SaniSpray HP 10 PLUS:
FILL & SPRAY 42 oz FLEXLINER BAG SYSTEM
• Extended spraying between refills
• Spray in any direction—even upside down
TRIAX™ AIRLESS PISTON PUMP WITH PROCONNECT™
REVERSE-A-CLEAN (RAC) X LP TIPS
• Choose from 9 RAC X LP tips to meet your disinfectant's dwell time and requirements
15″ SPRAY EXTENSION
• Provides additional reach
• Reduces operator chemical exposure
SaniSpray HP 20 - Cordless
Spray Up To 20 oz Per Minute
SaniSpray HP 20 Cordless Includes all features on the SaniSpray HP 20 PLUS:
BRUSHLESS DC MOTOR
• Dependable motor with spark-free operation provides the ability to spray alcohol-based (flammable) chemicals
(2) DEWALT® 20V LITHIUM-ION BATTERIES & CHARGER
• Sprays up to 2.5 gallons on each charge
SaniSpray HP 65
SaniSpray HP 65
3X Faster Than SaniSpray HP 20
POUR & GO 1.5 GALLON HOPPER
• Hopper delivers extended spray time along with self-contained portability
GRAB & GO SELF-CONTAINED SYSTEM
• Carry sprayer and material together—lid prevents splashes and spills while carrying
EXTENDED REACH TO SPRAY ANYWHERE
• Add up to 300 ft of hose to spray anywhere
POWERFUL DC MOTOR
• DC motor with spark arrestor provides ability to spray alcohol-based (flammable) chemicals
ADJUSTABLE PRESSURE CONTROL
PROX™ AIRLESS PISTON PUMP WITH PROXCHANGE™
LIGHTWEIGHT SANISPRAY HP GUN
• Allows products to be applied faster to speed up the disinfection process
REVERSE-A-CLEAN (RAC) X LP TIPS
• Choose from 12 RAC X spray tips to meet your coating's dwell time and atomization requirements
15″ SPRAY EXTENSION
• Provides additional reach
• Reduces operator chemical exposure
Get A Quote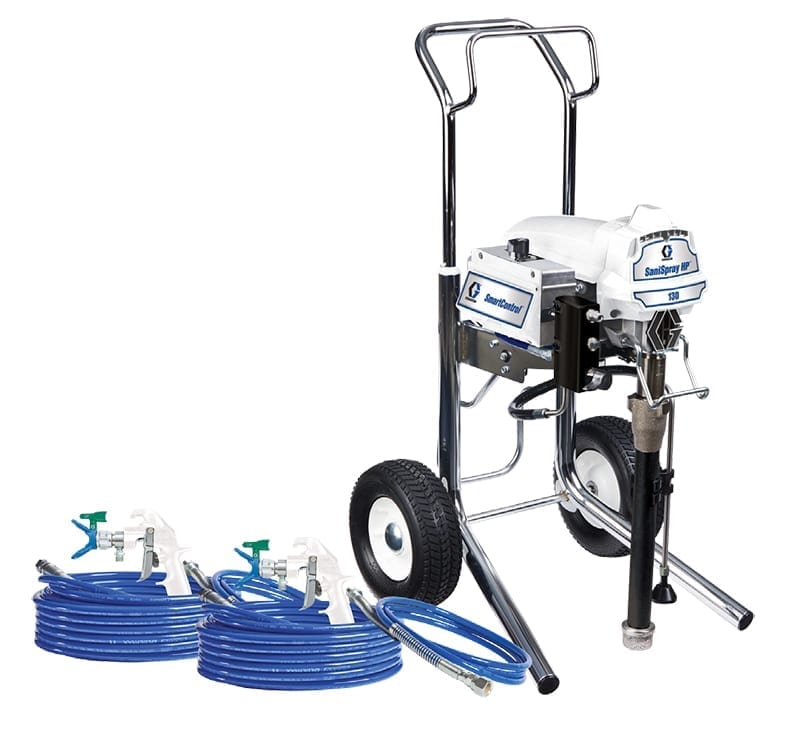 SaniSpray HP 130
SaniSpray HP 130
2X Faster Than SaniSpray HP 65
2-GUN PRODUCTIVITY DELIVERED
• Highest production airless disinfectant sprayer available on the market
• Simultaneous dual gun performance for maximum disinfection rates
SPRAY FROM ANY CONTAINER
• Extended spraying without refills
EXTENDED REACH TO SPRAY ANYWHERE
• Add up to 300 ft of hose to spray anywhere
SMARTCONTROL™ ADJUSTABLE PRESSURE CONTROL
• Full range control delivers even coverage on specific
objects or area fine misting
ROLL & GO CART DESIGN
• Easily move sprayer and chemical bucket together
ENDURANCE™ PISTON PUMP WITH PROCONNECT
LIGHTWEIGHT SANISPRAY HP GUN
• Allows faster application to speed up the disinfection process
REVERSE-A-CLEAN (RAC) X LP TIPS
• Choose from 17 RAC X spray tips to meet your
coating's dwell time and atomization requirements
15″ SPRAY EXTENSION
• Provides additional reach
• Reduces operator chemical exposure
MAXPOWER™ MOTOR & ADVANTAGE DRIVE™
• Dependable motor with spark-free operation provides ability to spray alcohol-based (flammable) chemicals
Get A Quote