Mobile Pressure Testing System
Pneumatic and Hydraulic Company's test systems are ideal for providing hydrostatic pressure for a range of applications. We've built smaller test packs as well as customized large test systems equipped with bulletproof operator rooms and multiple cameras for monitoring test areas. Our team of engineers are experts in hydrostatic testing which is one reason why Certarus reached out to us for their latest project.
Certarus, a company that specializes in providing consistent, reliable and economical natural gas solutions across North America, contacted us recently for help with a prototype project. The company's primary business is the compression, transportation, and integration of compressed natural gas (CNG) through their "virtual natural gas pipeline".  A leak in any of their hoses or gas lines could be catastrophic for their business and for their customers. For safety reasons, their hoses must be tested and have test results documented at least once every year. The best way to test the integrity of a hose is to use hydrostatic testing systems.  Due to the remote nature of their industry, another requirement for this project was that the system be easy to transport from site to site. The system and its operators would need to travel to different locations around North America to test Certarus' hoses.
Working closely with Certarus, we developed a mobile hydrostatic testing trailer. The mobile pressure testing system allows Certarus' employees to test hoses of different sizes, lengths, and pressures. With each test, Certarus has the ability to digitally record the data for their records and to compare any discrepancies between tests. The testing system is mounted inside a custom trailer modified by our partner Texas Metal Specialty.  The trailer was lined with rhino lining in the rear and a drain in the test area in case of a spill due to hose failure. A dividing wall, consisting of a metal frame and heavy-duty Lexan, was built to separate and protect the operator from possible equipment failure in the testing area while still allowing the operator to clearly see and monitor the hoses being tested.
This mobile test system is another prime example of how PHC collaborates with our customers to produce custom and  innovative solutions for some of the most challenging issues they face.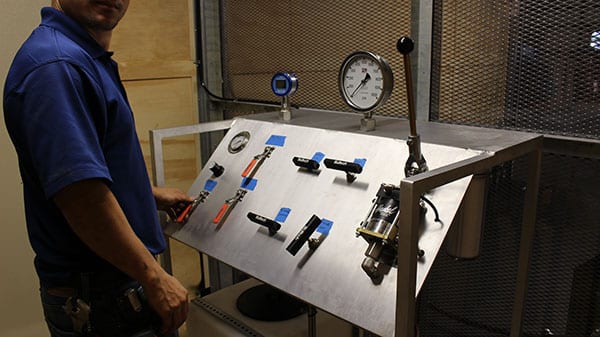 Our Custom Systems Portfolio