Wellhead Valve Hydraulic Closure Unit
When working on projects in the oil and gas industry, we understand that safety and efficiency are the keys to successful projects. Wellhead Valves must be operated carefully when being closed. Some valve types have a shear pin between the handle and stem, which will protect the valve's internal components if excessive force is applied. The master valve should not be used to close in a flowing well, except in an emergency. The swab or wing valves are typically used. Every time the gates of the valve shut in a flowing well, the increase in velocity of the well fluids during the closing action can cause wear across the seal faces. This means that valves can get harder to manually seal over time and become more susceptible to valve failure. 
We were recently approached by one of our customers to build a hydraulic-powered closure unit for their new line of surface test trees. They needed a system to automate the valve closing process, instead of requiring hand tools, to help eliminate uncertainty with regards to closing the master valve in the tree.  Our team of engineers worked without clients team to design the following systems. 
Wellhead Valve Hydraulic Closure Unit Features
3 Bank HPU
Frame Constructed from 2" x 2" C.S Square tube, 48" x 48"
15 Gallon Reservoir
(2) ASF-35 Haskel Pumps
(3) 5000 PSI Gauges
(1) 160 PSI Gauge
½" Air Regulator
(3) 4 Way / 2 Position Zero Leak Directional Valves
(1) 3-Station Manifold with built in Relief Valve
(2) 3/8" S/S Check Valves
(2) ½" S/S Suction Ball Valves
(2) 1" Suction Filters
(1) 10 Micron Return Filter
(3) Sets of Stucchi Flat Face QDs
All Hydraulic lines and Fittings will be S/S Tubing with JIC Flared End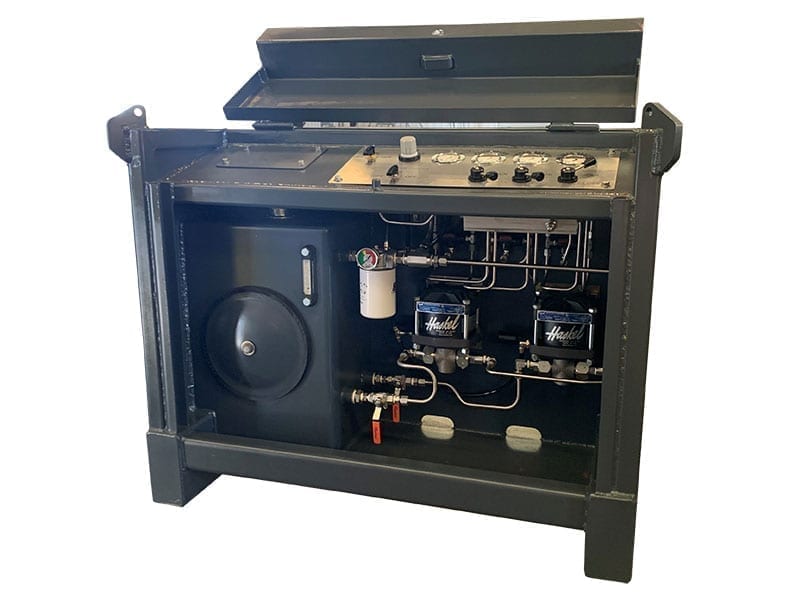 This project is another example of how Pneumatic and Hydraulic Company delivers "Service Beyond All Expectations", and why our clients trust us to help them design solutions to their unique challenges. Our dedication and determination to provide the best possible solution is why Pneumatic and Hydraulic Company has become one of the leading innovators and collaborators for oil and gas service companies worldwide.
Contact the hydraulic experts at Pneumatic and Hydraulic Company today to learn how we can help you leverage hydraulic power to make your operations safer and more efficient.
Our Custom Systems Portfolio