Portable Offshore Test Cart
These portable offshore test carts are made of 316 stainless steel which is salt spray resistant for offshore environments. We mounted them on stainless steel casters for mobility once one the rig and included pull tested lifting eyes. They each include a 20 gallon reservoir, pumps and controls. The first unit includes a high low Haskel pump for testing up to 2000 psi, the second unit is rated to 5000 psi.
An optional engraved front control of the system schematic was also added.  The front of each cart includes a shut off valve and two access doors.  The rear of the carts feature two additional, larger access doors to help make maintenance and repairs easier.  Both carts have a folding top cover to protect the controls and gauges when not in use and all outlets and shut off valves are recessed for safety and space saving.
For more information, or to talk with a test system specialist about your needs, call 877-836-1999.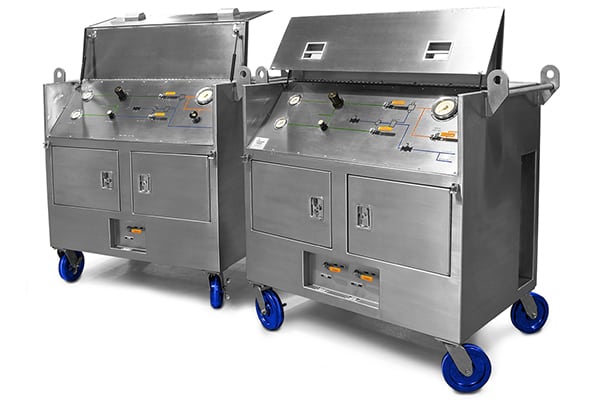 Our Custom Systems Portfolio