Surface-Controlled Subsurface Safety Valve (SCSSV) Control Panel
A safety valve is a valve that acts as the protector of your equipment. Safety valves can prevent damage to your pressure vessels and even prevent explosions at your facility when installed in pressure vessels.
A safety valve is a type of valve that automatically actuates when the pressure of the inlet side of the valve increases to a predetermined pressure, to open the valve disc and discharge the fluid. The safety valve system is designed to be a fail-safe so that a wellbore can be isolated in the event of any system failure or damage to the surface production-control facilities.
In most cases, it is mandatory to have a means of closure for all wells capable of natural flow to the surface. The installation of a subsurface safety valve (SSSV) will provide this emergency closure capability. Safety systems may be operated on a fail-safe principle from a control panel located on the surface that was custom-built by PHC.
The SCSSV is controlled by a ¼" stainless steel control line that is attached to the outside of the well tubing string and installed when the production tubing is installed. Depending on the wellhead pressure, it may be necessary to keep as much as 10,000 psi on the control line to keep the valve open. PHC control panels feature the proven Haskel pump line that generates the required hydraulic pressure for optimal valve control.
PHC constructs custom SCSSV control panels for our broad customer base and recently we built three well control panels to be sent out for a large project overseas. Below are the custom features we included on these custom panels.
SCSSV Control Panel Features and Capabilities
316 SS NEMA type enclosures with lifting eyes.
Pressure gauges to monitor critical inputs and outputs.
All 316 SS fittings and tubing.
Emergency Shut-Down (ESD) circuit for connection to remote ESD stations or fusible elements near the wellhead.
High- and low-pressure sensors to automatically close the SCSSV if undesirable pressures are presented and detected.
Pumps are equipped with hand pump modifications to allow operators to manually open the SCSSV if compressed air or natural gas is not available.
Custom well control panels can be configured to monitor and control single, dual, or multi-well locations.
The fail-safe design is suitable for installation offshore or on land.
Explosion-proof remote ESD, remote open/close, remote monitoring options are available.
Installation kits and spare parts are available at PHC for quick delivery.
Installation, start-up, commissioning, training, and maintenance services are all available upon request.
To learn more about PHC's custom panel capabilities, contact the pneumatic and hydraulic experts at PHC to learn how we can engineer a panel to meet the specific needs of your next project.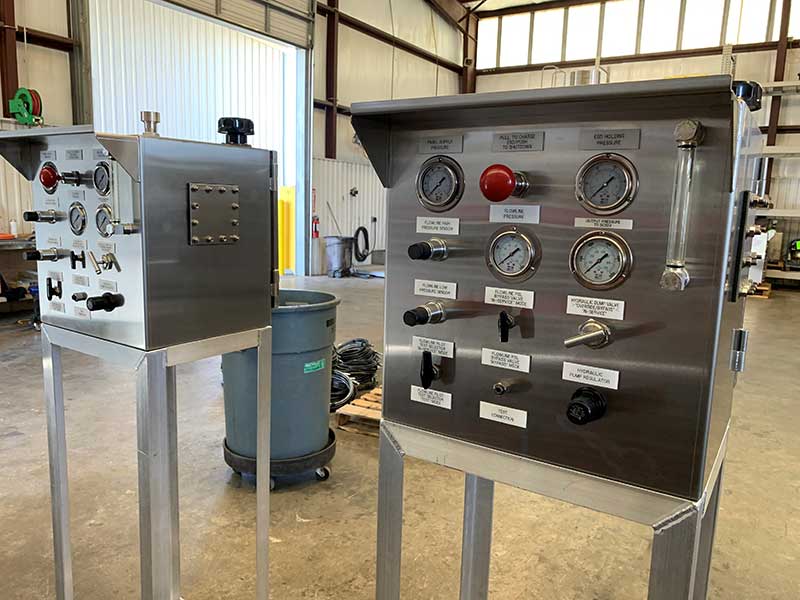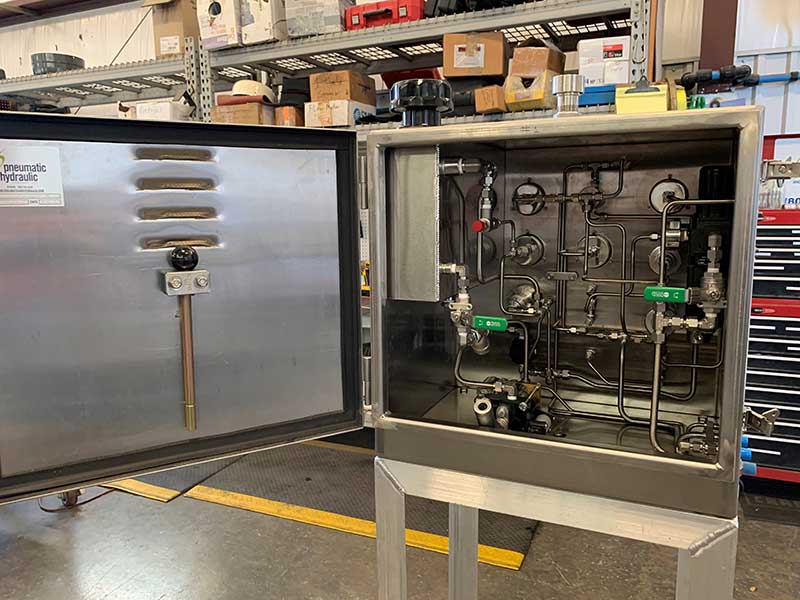 Our Custom Systems Portfolio