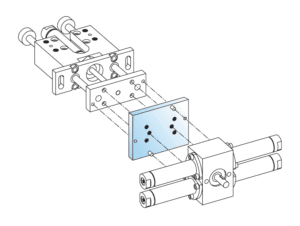 Across industries and applications, efficiency is key. Machines and processes that are more efficient produce more product over time and simplify the manufacturing process. For higher efficiency, the option to perform multiple motions in a single assembly not only helps customers reduce the time it takes to complete a task, but can shift those tasks into a smaller physical space.
Bimba Transition Plates allow customers to easily mount different standard actuators into a single assembly. Do you need to extend and then rotate a part? What if you're looking to move a component from one conveyor to another? For many applications, transition plates are the obvious solution to create a more efficient design. You can choose the product configuration that best suits your application and find available sizes for that configuration.
To view all available transition plates, check out the catalog pages, or contact us for additional information.