Seal-less Reciprocating Diaphragm Compressors
Seal-less reciprocating diaphragm compressors, by PPI, deliver non-contaminating compression of any gas. Their factory in the United States has been engineering and manufacturing leak free compressors for over sixty years. Their diaphragm compressors meet the highest industry standards for seal-less positive displacement machines including:
Durability – Lubricant and abrasive-free compression of gases and mixtures. Ideal for harsh environments like refineries, as well as very clean high technology factories and research centers. Their patented Ultrafram diaphragm technology and proprietary cavity design provide unmatched diaphragm life.
Reliability – Heavy duty components custom engineered to ensure reliable operation. Every diaphragm is load tested in the factory meet your specific service and operating parameters.
Heavy Duty Rugged Design – Complete units including base frame, power unit, pulsation dampers, coolers, valves, instruments and a control unit integrated into a complete package ready to fit exactly into your operation.
Long and Trouble Free Operation – With regular maintenance PPI seal-less reciprocating diaphragm compressors work for years to meet exacting API-618 standards.
Exceptional Value – These reciprocating diaphragm compressors are extremely competitive with the industry taking into account the total cost of ownership including purchase price for high quality components, efficient lifetime operational costs, and maintenance including genuine OEM parts and fluids.
Delivery Times – These diaphragm compressors are engineered, built and tested in the United States, so we can meet or beat most delivery deadlines to keep your operations running smoothly.
Series 9X Diaphragm Compressor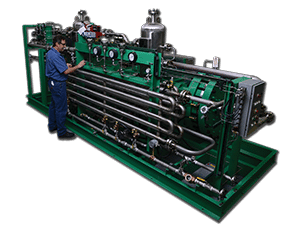 The Series 9X Diaphragm Compressor is available in single and two stage configurations.
Sub-series models are as follows:
9X Single Stage
9X/H Two Stage
Series 7L Diaphragm Compressor
The Series 7L Diaphragm Compressor is available in single and two stage configurations.  Sub-series models are as follows:
5000, Single Stage
5L/H, Two Stage
7000, Single Stage
7L/H, Two Stage
9000, Single Stage
9L/H, Two Stage
Series 4L Diaphragm Compressor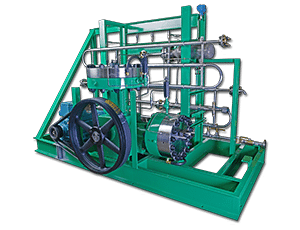 The Series 4L Diaphragm Compressor is a highly reliable and robust design available in several sub series models.
4000 Single Stage
4X000 Single Stage
4L Two Stage
4LX Two Stage
PPI 1500 Diaphragm Compressor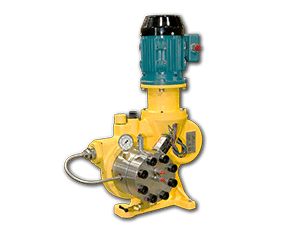 PPI 1500 Series Diaphragm Compressors are ideal for pilot plant and lesser quantity cylinder filling applications where high purity or hazardous gases are used in lower capacities. The 1500 Series compressor is supplied as standard with an integral electric drive motor and leak detection system. PPI 1500 Series have been developed using the latest technology in solids modeling and FEA analysis.  All working components have been designed and tested for reliability and longevity.
Displacements to 0.025 cfm (0.7 lpm)
Inlet pressure: 0-2450 psig (0-170 barg)
Discharge pressures to 6000 psig (415.0 barg)
PPI 1500 Series compressors are ideally suited for use with gases such as Hydrogen, Krypton, Xenon, Argon, Fluorine, Oxygen, NF3, Helium, and other high purity or hazardous gases.
Series 2L Diaphragm Compressor
The Series 2L Diaphragm Compressor is available in single and two stage configurations.  Sub-series modles are as follows:
2000, Single Stage
2L, Two Stage