Daman Manifolds
Daman Manifolds has more than 122 years of combined experience with Custom Manifold circuit diagrams, cost quotations, manifold design, technical support and trouble shooting. Customers can provide a freehand schematic and rest assured that Daman Manifolds utilize their expertise and experience to cover all of the details, from your freehand schematic to manifold technical support after the sales, and absolutely every detail in between.
Request More Info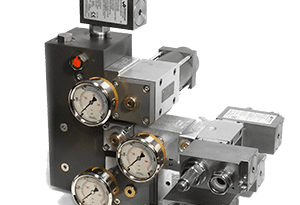 Most manufacturers today have the latest tools and technology, but few combine today's tooling and technology advances with creativity, expertise, ethics and integrity.
Each Daman Design Team member has a proven track record of taking a rough concept and refining, communicating and resolving critical details that distributors and end users typically worry about. Combine this with Daman Products' advanced manufacturing and marketing principles, and the difference is clear. Daman Products employs a level of expertise and partnership philosophy that can help you win more work and build better relationships than any other manufacturer you have ever dealt with. Demand Daman and experience the difference.
Full-time design/support staff with over 122 years combined experience
State-of-the-art design capabilities using manifold-specific software
World-class, Cellular Manufacturing utilizing Lean processes and principles
10 CNC Machining Centers
Inventory of more than 700 cartridge cavity tools for all major valve manufacturers